Interior
Microcement on The Floor – Stylish Finishing of The Apartment
Finishing floors in an apartment is one of the most important stages of renovation, which significantly affects the comfort and aesthetics of the entire space. The right choice of material is crucial not only for durability and functionality, but also for design. One material that has been gaining popularity and interest in recent years is microcement, also known as micro concrete or beton cire. Why is this material so popular and in which rooms can it be used? In this article we will answer these and other questions, taking a closer look at both the technical and aesthetic aspects of using microcement in an apartment.
What is microcement?
Microcement is an innovative building material that is gaining more and more supporters due to its unique properties and versatile application. It consists mainly of high-quality cement and polymer resins, which makes it extremely resistant and flexible. The production process of micro concrete is complex and requires a precise selection of ingredients, which guarantees its durability and resistance to various types of damage. It is also worth mentioning that despite its durability, beton cire offers a wide range of design possibilities, allowing you to achieve the effect of both modern and more classic finishes.
Properties and advantages of microcement
Choosing the right material for floors in your apartment is a decision that commits you for years. Therefore, it is worthwhile to carefully study all the properties and advantages of the options under consideration. As one of the more modern materials, microcement offers a number of benefits that deserve a closer look:
Water resistance: microcement is resistant to moisture, making it an ideal choice for bathrooms and kitchens where the floor is particularly exposed to water.
Durability: Micro concrete's resistance to mechanical damage makes it ideal for high-traffic areas, offering durability for many years.
Hypoallergenic: Beton ciré has no joints and does not emit volatile organic compounds (VOCs), making it hypoallergenic and a safe choice for people with allergies.
Aesthetics: Microcement is available in a wide range of colors and textures, allowing you to customize the look of your floor to match a variety of interior styles.
Easy Care: Micro concrete requires no specialized cleaning products and is easy to maintain, making it a practical choice for everyday use.
Ease of application: Beton ciré can be applied on its own, saving time and resources for renovations. There are special ready-to-use systems on the market, suitable for individuals.
In which rooms microcement will work best?
Microcement works well as a floor finish in many nooks and crannies of an apartment. Its water-resistant nature makes it ideal for use in bathrooms, especially in modern showers without a shower tray. In the kitchen, it's not just moisture resistance that is an asset; micro concrete also effectively resists various types of stains.
When it comes to high-traffic rooms such as lobbies and hallways, ciré concrete offers the necessary strength and resistance to damage. This gives the material an advantage as a finish in areas most exposed to abrasion.
In living rooms, microcement blends in perfectly, creating a cohesive and aesthetically pleasing whole with the rest of the decor. Not only does it look good, but it can withstand heavy use, which adds to its practical value.
Last, but not least, are the bedrooms. Here micro concrete combines elegance with functionality, providing the perfect backdrop for a variety of interior design styles and colors.
How does the application of microcement on the floor proceed?
The substrate intended for microcement must be even and free of cracks, paint or plaster. A key role is played by priming the substrate, which ensures proper adhesion and prevents the liquid polymer from "sucking" through the substrate.
In the context of flooring, especially with underfloor heating, it is recommended to use a primer along with a fiberglass mesh. This approach minimizes the risk of thermal stress cracking.
Adequate room lighting is important for precise application. Microcement is applied in a temperature range of 15-25°C. The material is spread with metal tools to a thickness of no more than 1 mm, using quick and vigorous movements. After about 4 hours of drying, the surface is sanded, and the process can be repeated for subsequent layers.
In the final stage, the floor is impregnated with a special sealer. This layer not only prolongs the life of the microcement, but also facilitates its daily maintenance. Sealer is applied twice, with adequate drying time between coats.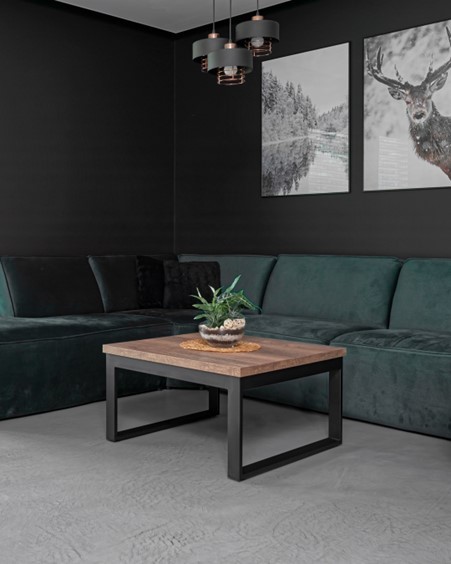 Contractor: @twoja_sciana
Photo: @radek_bilbil
Read more about microcement: https://www.festfloor.com/category/blog/