Improvement
Improved Black Shower Screen Becomes Readily Available
Creative Glass Studio is a London-based company with extensive plans for the future. They stay strong in pursuing their goals of providing their customers with the best innovative solutions. By diversifying the assortment, they embrace new economic thinking, sharpen their business all the time, and are going to launch the manufacturing of products and accessories. The key purpose of such vertical growth is to reach the perfection of their black shower screens, the assortment of which is represented here – https://creativeglassstudio.co.uk/bespoke-shower-enclosures/crittall-showers
New black-framed shower screens' quality
Up to this point, Creative Glass Studio has enlisted third parties to plate frames and other components of their shower enclosures using chrome/nickel. However, plating applied by third-party companies is not as beneficial as it may seem. The owner says that the price for outside services is very high. At the same time, too long completion and delivery times are not in tune with the studio's policy. That is why Creative Glass Studio is going to take the process under control and become independent from the capabilities of service suppliers.
They have come to a decision to investigate their business opportunity and refuse outsourcing at this stage of their manufacturing cycle, abandoning unreliable partners with their restricted offer. Another reason for such a decision is that service suppliers mostly use production lines equipped with tanks less than two meters in length. Rare ones are able to coat profiles of over two meters in length with chrome. These works necessitate additional effort, raising the price even higher.
The only way out is to launch their own manufacturing equipment with 3-meter tanks in the studio's workshop. This will allow applying chrome plating onto profiles used for framed doors designed for premises with high ceilings. Going forward, Creative Glass Studio has the idea of setting up a new company that will provide the new services to the market and become their additional revenue stream.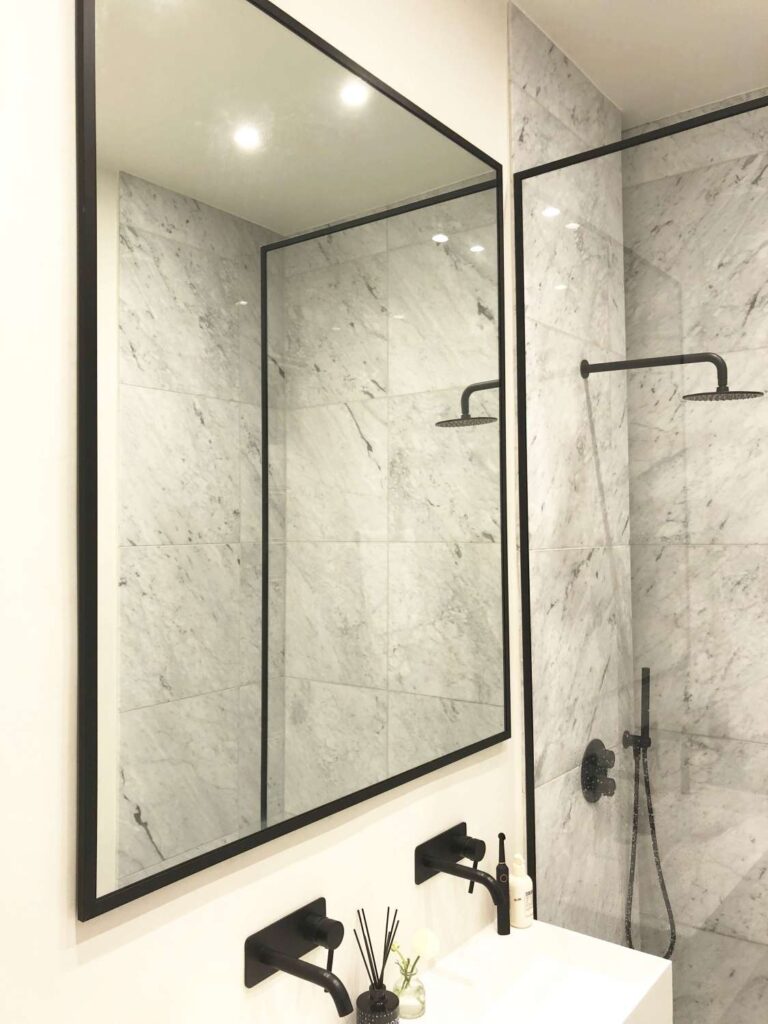 Chrome and nickel plating
The frames of Creative Glass Studio's black-framed shower enclosure and their fittings are made from quality aluminium that is plated to enhance their appearance and durability. Nickel plating is traditionally used in the design of English houses. That is a popular option for shower accessories like taps, showerheads, and controls. Following the trend, the company focuses on its customers and attempts to match its products to the ready demand.
Polished nickel plating indeed creates strong protection of treated elements that allow users to reduce scratch appearance on the surface. As a result, such components of the black-framed shower screen will look like new for a long time.
What will be changed with a black-framed shower door?
The studio owner proves that all the necessary equipment, fittings, and chemicals have already been purchased. However, there is some preparation left before the launch. Just shortly, they are going to branch out in a new direction. That will be another step toward business expansion.
Their own chrome/nickel plating will:
reduce the cost of the final products and increase their competitive advantage;
shorten the lead time without compromising on the quality of shower enclosures;
provide reliable and durable protection for aluminium components. 
It is a very important decision, as their products, like a grid shower screen, come with lots of aluminium bars. The customer will definitely want to see them protected from early wear. Plated layers, applied in a responsible manner by skilled professionals in the studio, cope with the task perfectly.
Also, the producer has improved the frames of their shower enclosures. The fourth update has resulted in the reinforcement of Crittall models with stainless steel. Now they are even more rigid with such a core. Doors are now easier to open thanks to built-in magnetic neodymium blocks. Additional innovations in updated constructions, including new bespoke door seals and other stuff, reduce installation time. 
Visit their website – https://creativeglassstudio.co.uk/bespoke-shower-enclosures/crittall-showers to see their assortment and learn more about the innovative technologies they use to enhance the functionality and design of their products.